Stronger and more committed to their craft than ever, Big Head Todd & The Monsters are set to release the new album, Black Beehive, a quarter-century into their career. Produced and mixed by the Grammy-winning Steve Jordan, Black Beehive is a strong collection of songs that finds the band honing their trademark blues-rock sound. First single "Josephina" is a bittersweet rocker featuring Todd's soulful vocals and the band's taut musicality.
Impact date: January 20. Video forthcoming.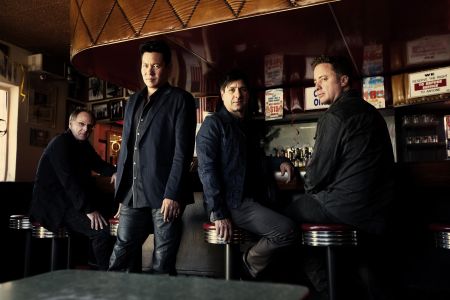 . . : : Additional Info : : . .
Black Beehive Tour Dates:
Thu Jan 16  Brooklyn, NY   An Evening With BHTM @ Brooklyn Bowl Fri Jan 17   Philadelphia, PA  An Evening With BHTM @ Union Transfer Sat Jan 18  Washington, DC  An Evening With BHTM @ 9:30 Club Tue Jan 21 Charlottesville, VA  An Evening With BHTM @ Jefferson Theater Thu Jan 23  Knoxville, TN    An Evening With BHTM @ Bijou Theatre Fri Jan 24   Asheville, NC   An Evening With BHTM @ The Orange Peel Sat Jan 25  Atlanta, GA   An Evening With BHTM @ Buckhead Theatre Sun Jan 26  Nashville, TN   An Evening With BHTM @ 3rd and Lindsley Fri Jan 31  Raleigh, NC   An Evening With BHTM @ Lincoln Theatre Sat Feb 01  Charlotte, NC   An Evening With BHTM @ The Fillmore Tue Feb 04  Macon, GA   An Evening With BHTM @ Cox Capitol Theatre Thu Feb 06  St. Petersburg, FL  State Theatre w/ Martin Sexton Fri Feb 07  Lake Buena Vista, FL  House of Blues w/ Martin Sexton Sat Feb 08  Ft. Lauderdale, FL  An Evening With BHTM @ Revolution Thu Feb 20  Northampton, MA  An Evening With BHTM @ Calvin Theatre  Fri Feb 21  Port Chester, NY  The Capitol Theatre w/ Anders Osborne Sat Feb 22  Boston, MA   An Evening With BHTM @ House of Blues Tue Feb 25  Pittsburgh, PA   An Evening With BHTM @ Mr. Small's Theatre Thu Feb 27  Cincinnati, OH  An Evening With BHTM @ 20th Century Theatre Fri Feb 28  Cleveland, OH  An Evening With BHTM @ House of Blues Sat Mar 01  Royal Oak, MI  An Evening With BHTM @ Royal Oak Music Theatre Thu Mar 06  Milwaukee, WI  An Evening With BHTM @ Turner Hall Fri Mar 07  Chicago, IL   An Evening With BHTM @ House of Blues Sat Mar 08  St. Louis, MO   An Evening With BHTM @ The Pageant Sun Mar 09  Council Bluffs, IA  An Evening With BHTM @ Whiskey Road House Fri Mar 28  Seattle, WA   An Evening With BHTM @ Showbox Sat Mar 29  Portland, OR   An Evening With BHTM @ Crystal Ballroom Tue Apr 01  San Juan Capistrano, CA  An Evening With BHTM @ Coach House Thu Apr 03  Solana Beach, CA  An Evening With BHTM @ Belly Up Tavern Fri Apr 04  Solana Beach, CA   An Evening With BHTM @ Belly Up Tavern Sat Apr 05  San Francisco, CA  An Evening With BHTM @ The Fillmore